Reserve Space at the Potomac Science Center for Your Event or Celebration
Incredible views and versatile, state-of-the-art facilities provide a beautiful and ideal space for group meetings, trainings, special events, and celebrations. The Potomac Science Center is located in Woodbridge, Virginia, on the beautiful Belmont Bay.
First-class customer service and attention to detail will ensure high-quality service for your event needs. Event spaces offer cutting-edge audiovisual equipment, including projectors, screens, and sound systems.
The events team at Mason's Potomac Science Center welcomes university departments, government agencies, businesses, community members, and non-profit organizations to host events at this exceptional location.
UPDATE: Important Announcement Regarding Events at Mason
An internal seated event will be set-up to allow 10 percent of the expected attendance to accommodate physical distancing for unvaccinated individuals.
External events can decide if distanced seating is necessary. This will be determined between the external organization and the Events office.
As COVID-19 infections increase in our region, especially the prevalence of the Delta variant, effective immediately, our university again will require all individuals on our campus to wear masks indoors, regardless of vaccination status. Review more information on the Mask Policy
All on-campus events must still follow certain requirements:
All events and gatherings managers must request space in compliance with University Policy 1103 (Space Utilization and Scheduling).
Participants must complete Mason COVID Health✓™ and receive a "green light" status on the day of the event. Event organizers must perform a spot check of 20 percent of attendees to verify a green status during check-in.
Entrances and exits must be configured to reduce bottlenecks.
Events cannot be open to the general public.* RSVPs are required for all events, and organizers should check in the participants and keep records of attendees/no-shows.
If food is being served, you must follow our Dining guidelines.
*General public is defined as anyone who is not a current Mason faculty, staff, or student and has not registered for an event.
To reschedule or edit a current reservation, email pscevent@gmu.edu.
For updates regarding the university and the COVID-19 pandemic, visit gmu.edu/safe-return-campus.
Available Spaces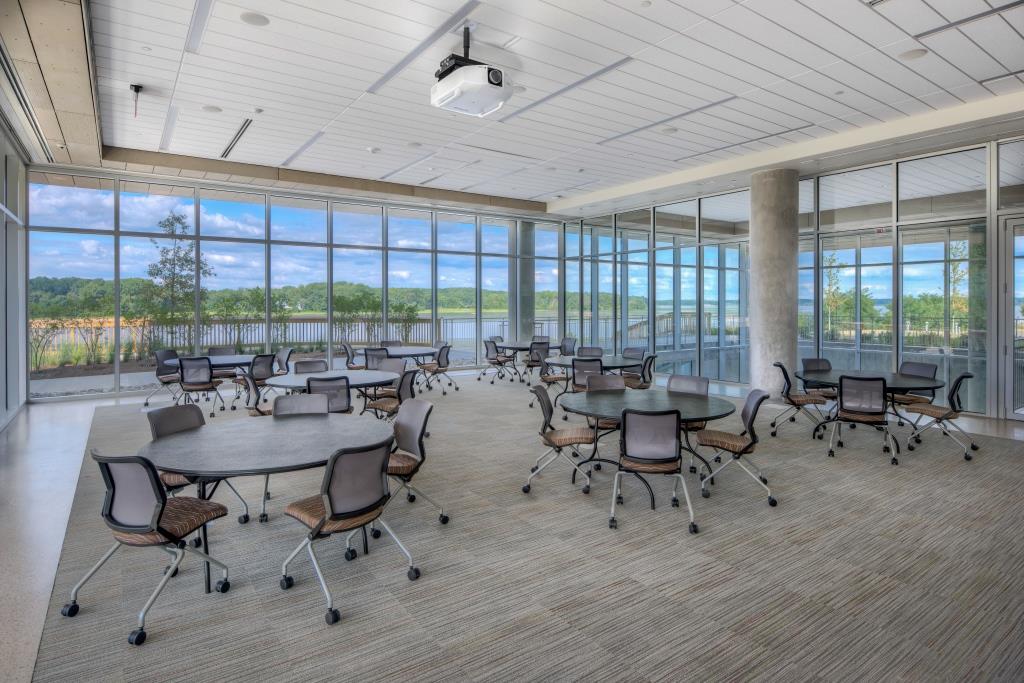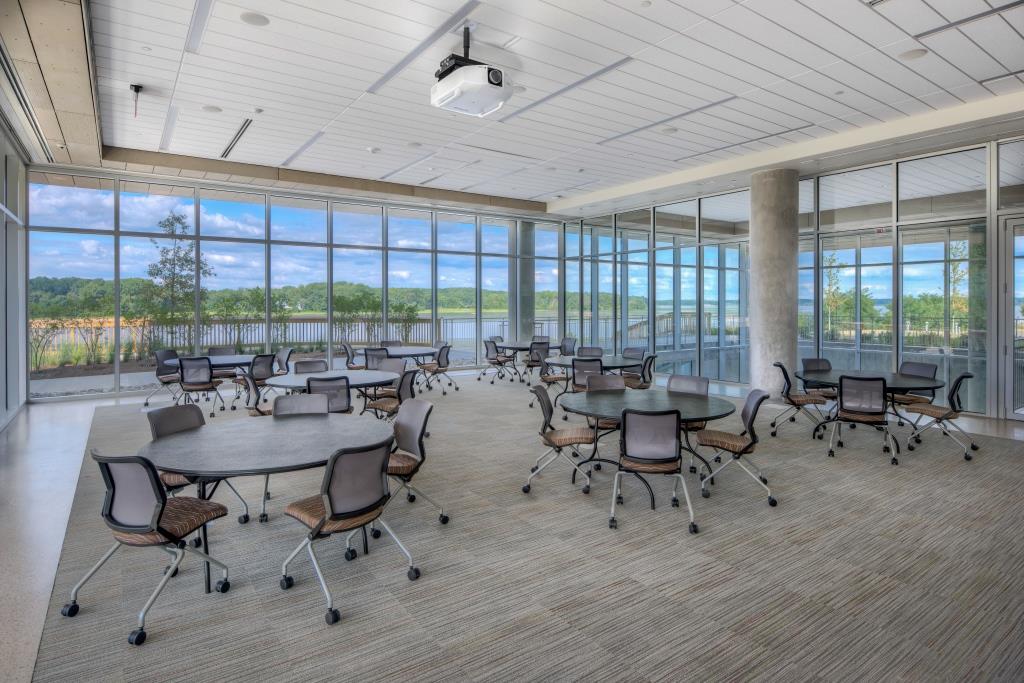 Pre-Function Lobby Area and Exhibit Gallery

Amphitheater and Outdoor Patios
Planning Your Event
Whether you're planning a one-day or multiple-day event, we are happy to help with information on catering, local accommodation, and transportation options.
General Information: All groups hosting an event at the Potomac Science Center should refer to this document.
Catering: Food served at events must be prepared by a licensed and insured caterer. Approved caterers, including the university's catering service, are listed on the shopMason website. If your caterer is not on the approved list, following the instructions to have them approved.
China service or biodegradable products for food and beverage for outdoor events: As the Potomac Science Center is situated along Belmont Bay, we prefer food and beverage to be served using china service. However, if paper products must be used, we require that biodegradable products are used. Clients will be responsible for cleaning up all products and for any fees associated with clean-up of items that are not disposed of properly.
Transportation: There are several options to get to the Potomac Science Center:
Driving: Whether on your own or carpooling, plug in our address to GPS: 650 Mason Ferry Avenue, Woodbridge, VA 22191
Train: Potomac Science Center is about one mile from the Woodbridge Virginia Railway Express (VRE)/Amtrak Station (which also serves Union Station in Washington, DC); 6 miles from the Lorton VRE/Amtrak Station; and 12 miles from the Franconia-Springfield stop on the WMATA (Washington Metro Area Transit Authority) Blue Line. From the train stop, order a taxi, Uber or Lyft for a short ride to POV.
Internal Space Requests: Mason departments and offices interested in requesting event space, please use 25Live. To see space options, type in PSC or Potomac Science Center under the Quick Search option – Search Locations field.
External Client Space Request Form (non-Mason): Use this form if you are a non-Mason, external client and would like to reserve space at the Potomac Science Center for an upcoming event. Note: We require one month to process events and contracts. We will sometimes be able to do smaller events in 15 business days. But in order to do so, full payment is due upfront.
General Guidelines for Event Space Use at the Potomac Science Center
Current Rates: External client rental fees
Life of an Event: This document walks you through the process of planning and hosting an event at the Potomac Science Center.
Photo Gallery: Images of the Potomac Science Center event spaces. Also check out the video tours of event spaces.
Nearby Hotels: View hotels near the Potomac Science Center.
Police Request Form: Use this form if you are in need of Mason Police presence at your event. Note: Events with alcohol are required to have police present.
Discount Request Form: Events organized jointly by Internal and External Clients are classified as External Events but are eligible for discounted rates. Internal clients, please fill out this form and submit details requested on the form.
University Policy 1103: Space utilization and scheduling.
For more information on event spaces and rental procedures, contact pscevent@gmu.edu or 703-993-7107.